The challenge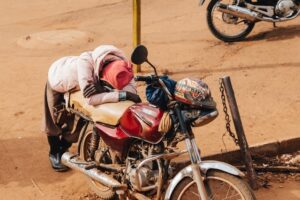 Uganda has many transportation and infrastructure issues that make life difficult for the population. Especially in rural areas of Uganda, access to safe and affordable transportation is non-existent. In order to have access to markets, educational institutions, health centres, etc. many have to walk long distances, often transporting heavy things on their heads or backs. There is no safe infrastructure with a sustainable transport policy and even for the few available regulations, implementation is still a problem. Another problem is that unemployment remains high, especially among youths who are the majority of the Ugandan population. Furthermore, climate change and pollution affects all countries around the world and are increasingly important issues also in Uganda.
The change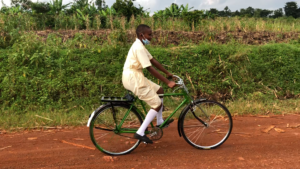 A Bicycle can make a change. The solution is as old as good. To get out of poverty, accessibility is one of the most important tools.  The bicycle drastically improves this in an eco-friendly way. Easy to repair and maintain, in many cases the bicycle is a suitable response to the challenges people face. FABIO is aiming to spread the idea of cycling for a better future.
Our projects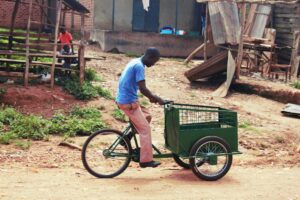 FABIO improves lives by many different programs around sustainable and affordable mobility. One focus is on women's groups gaining access to markets and also enhancing their ability to do the household chores faster and hence improving on their productivity. Another focus is on school children, especially girls, by providing bicycles they can improve their school retention and performance. To enable and strengthen their effectiveness in supporting communities on health related issues FABIO also provides bicycle ambulances to village health teams in rural communities. Another current project focusses on the spreading of E-Mobility among the streets of Jinja and Iganga. You are invited to discover all of our interesting projects.
Support our projects and participate in our important work