The challenge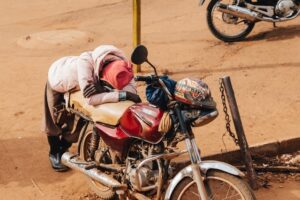 Ugan­da has many trans­porta­tion and infra­struc­ture issues that make life dif­fi­cult for the pop­u­la­tion. Espe­cial­ly in rur­al areas of Ugan­da, access to safe and afford­able trans­porta­tion is non-exis­tent. In order to have access to mar­kets, edu­ca­tion­al insti­tu­tions, health cen­tres, etc. many have to walk long dis­tances, often trans­port­ing heavy things on their heads or backs. There is no safe infra­struc­ture with a sus­tain­able trans­port pol­i­cy and even for the few avail­able reg­u­la­tions, imple­men­ta­tion is still a prob­lem. Anoth­er prob­lem is that unem­ploy­ment remains high, espe­cial­ly among youths who are the major­i­ty of the Ugan­dan pop­u­la­tion. Fur­ther­more, cli­mate change and pol­lu­tion affects all coun­tries around the world and are increas­ing­ly impor­tant issues also in Uganda.
The change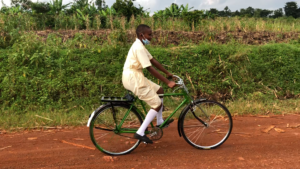 A Bicy­cle can make a change. The solu­tion is as old as good. To get out of pover­ty, acces­si­bil­i­ty is one of the most impor­tant tools. The bicy­cle dras­ti­cal­ly improves this in an eco-friend­ly way. Easy to repair and main­tain, in many cas­es the bicy­cle is a suit­able response to the chal­lenges peo­ple face. FABIO is aim­ing to spread the idea of cycling for a bet­ter future.
Our projects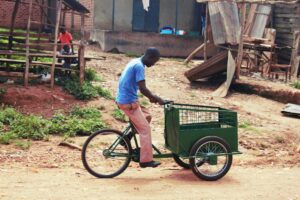 FABIO improves lives by many dif­fer­ent pro­grams around sus­tain­able and afford­able mobil­i­ty. One focus is on women's groups gain­ing access to mar­kets and also enhanc­ing their abil­i­ty to do the house­hold chores faster and hence improv­ing on their pro­duc­tiv­i­ty. Anoth­er focus is on school chil­dren, espe­cial­ly girls, by pro­vid­ing bicy­cles they can improve their school reten­tion and per­for­mance. To enable and strength­en their effec­tive­ness in sup­port­ing com­mu­ni­ties on health relat­ed issues FABIO also pro­vides bicy­cle ambu­lances to vil­lage health teams in rur­al com­mu­ni­ties. Anoth­er cur­rent project focuss­es on the spread­ing of E‑Mobility among the streets of Jin­ja and Igan­ga. You are invit­ed to dis­cov­er all of our inter­est­ing projects.
Support our projects and participate in our important work