We as the First African Bicycle Information Organisation (FABIO) are dealing with the question of making transport more sustainable and cleaner without losing any comfort. For many transport scenarios the solution is quite simple: using the good old bicycle as a reliable, cheap and clean as a means of transport. Nonetheless, a normal bicycle can also have some disadvantages. Slower speed, higher physical effort and less coverage of distance are some of them. For example, in the last years, people could have seen an increasing number of bicycle Boda Bodas around Jinja and Iganga, but due to the previously mentioned problems these drivers were only able to charge half of the price of their motorised colleagues even though they were facing a higher physical effort. This is the reason why FABIO, in cooperation with organisations from Germany and India, developed, manufactured and launched a promising solution, the first E–Bike designed especially for the needs of subsaharan Africa: The AfricroozE.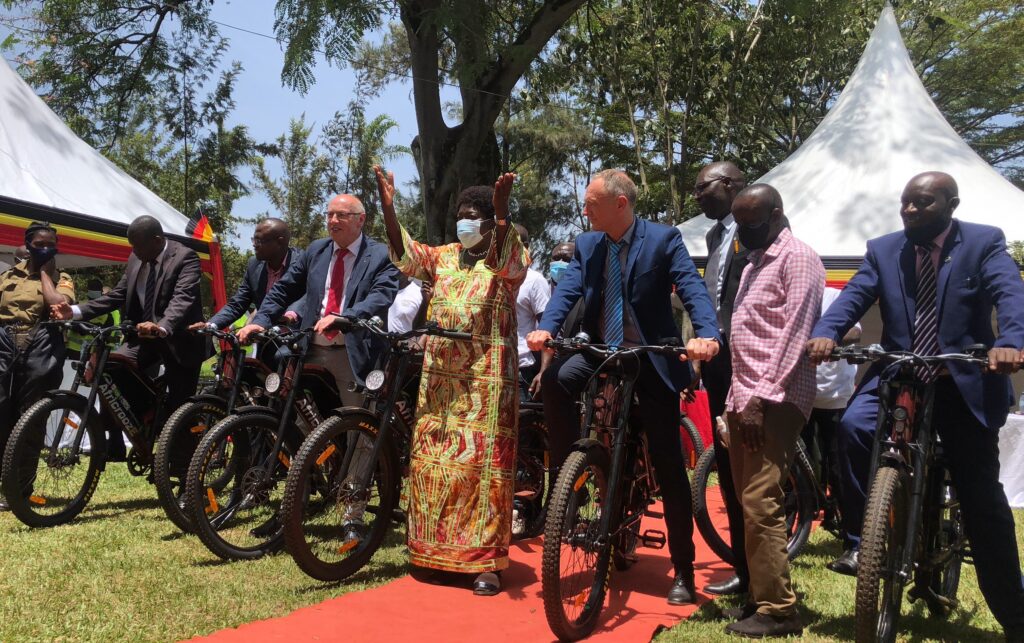 An E–Bike is a normal bicycle which is supported by an electrical motor. Higher speed and range, less effort for the driver, higher load capacity but still no direct emissions are only some of the benefits of this combination of a bicycle and an electric vehicle. The batteries can be charged by electrical energy e.g., coming from solar panels at the loading stations in Jinja and Iganga. On Friday 11 of March 2022, a first hundred of these AfricroozEs were launched in Jinja under high public attention. Special guests as the deputy prime minister Rebecca Alitwala Kadaga and the German ambassador Matthias Schauer emphasized the role of the bicycle and the AfricroozE for the mobility of the future. These hundred E–Bikes are distributed from March to June 2022 under several projects mostly in Jinja and Iganga. The projects concern mobility, health, business improvement and tourism. In the handover events the beneficiaries are introduced into the usage of the bike and also security rules in the traffic. The long term goal of the African E-Bike project is to spread the idea of sustainable E-Mobility in Uganda and the whole African continent. The project is supported by KfW of the German government and FABIO is strongly cooperating with the European Institute for Sustainable Transport (EURIST). For more information also check out the African E-Bike website.
| | |
| --- | --- |
| Speed | 30 km / h |
| Range | 40 km, fully loaded |
| Load capacity | 120 kg |
| Design | HNF Nicolai and FABIO |
| Manufacturing | Hero Cycles |
| Assembly | FABIO |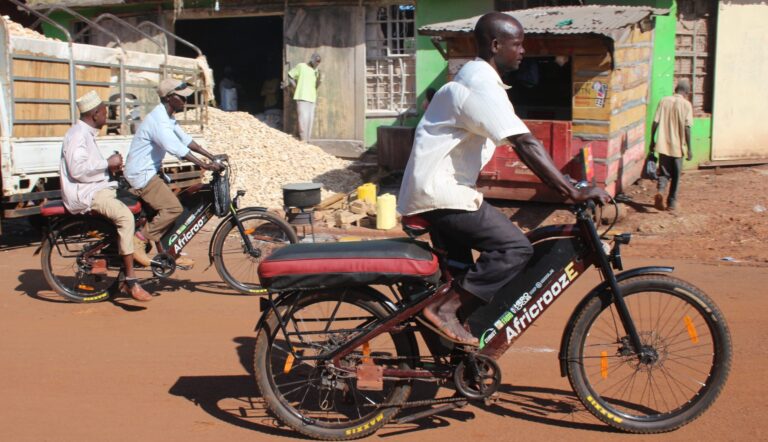 | | |
| --- | --- |
| 45 Taxis | 30 Jinja / 15 Iganga |
| 10 Ambulances | 5 Jinja / 5 Iganga |
| 5 Delivery Bikes | Jinja |
| 10 Waterbikes | 5 Jinja / 5 Iganga |
| 10 Tourist Bikes | Jinja |
20 more private founded E-Bikes of the first are distributed to other persons and organisations around Uganda and Kenya.
A pilot project started in 2017 already allows a little outlook on the impact of the E-Bikes. Three E-Bikes were used by up to 12 users each of which of 86% realised a strong increase of their income. The bikes covered a distance of 20 to 30 kilometres every day. By covering more distance within a shorter time beneficiaries were able to spend more time  in the fields and with their families meaning a better social and economic livelihood. Conclusions of the projects started in 2022 will be available in time. Already now we get lots of good direct feedback by our beneficiaries.