We as the First African Bicycle Infor­ma­tion Organ­i­sa­tion (FABIO) are dealing with the ques­tion of mak­ing trans­port more sus­tain­able and clean­er with­out losing any com­fort. For many transport sce­nar­ios the solu­tion is quite sim­ple: using the good old bicy­cle as a reli­able, cheap and clean as a means of trans­port. Nonethe­less, a nor­mal bicy­cle can also have some dis­ad­van­tages. Slow­er speed, high­er phys­i­cal effort and less cov­er­age of dis­tance are some of them. For exam­ple, in the last years, peo­ple could have seen an increas­ing num­ber of bicy­cle Boda Bodas around Jin­ja and Igan­ga, but due to the pre­vi­ous­ly men­tioned problems these dri­vers were only able to charge half of the price of their motorised col­leagues even though they were fac­ing a high­er phys­i­cal effort. This is the rea­son why FABIO, in coop­er­a­tion with organ­i­sa­tions from Ger­many and India, devel­oped, manufactured and launched a promising solu­tion, the first E-Bike designed espe­cial­ly for the needs of sub­sa­haran Africa: The AfricroozE.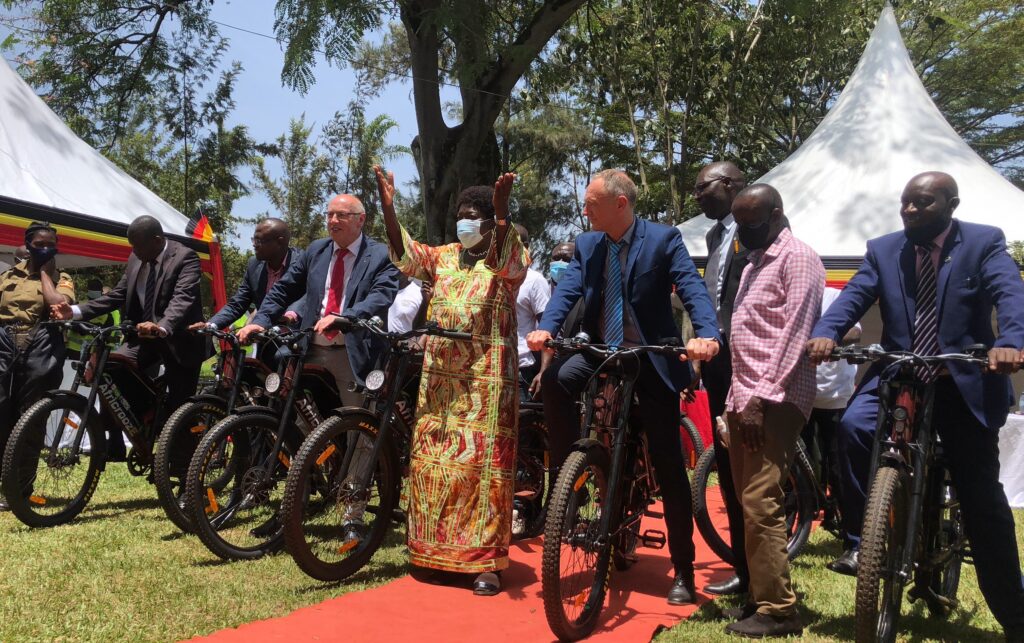 An E-Bike is a nor­mal bicycle which is sup­port­ed by an elec­tri­cal motor. Higher speed and range, less effort for the dri­ver, high­er load capac­i­ty but still no direct emis­sions are only some of the ben­e­fits of this com­bi­na­tion of a bicy­cle and an elec­tric vehicle. The bat­ter­ies can be charged by elec­tri­cal ener­gy e.g., com­ing from solar panels at the load­ing sta­tions in Jin­ja and Igan­ga. On Fri­day 11 of March 2022, a first hundred of these AfricroozEs were launched in Jin­ja under high pub­lic atten­tion. Spe­cial guests as the deputy prime min­is­ter Rebec­ca Alit­wala Kada­ga and the Ger­man ambas­sador Matthias Schauer empha­sized the role of the bicy­cle and the AfricroozE for the mobil­i­ty of the future. These hun­dred E-Bikes are dis­trib­uted from March to June 2022 under sev­er­al projects most­ly in Jinja and Iganga. The projects con­cern mobil­i­ty, health, busi­ness improve­ment and tourism. In the han­dover events the ben­e­fi­cia­ries are intro­duced into the usage of the bike and also secu­ri­ty rules in the traf­fic. The long term goal of the African E‑Bike project is to spread the idea of sus­tain­able E‑Mobility in Ugan­da and the whole African con­ti­nent. The project is sup­port­ed by KfW of the Ger­man gov­ern­ment and FABIO is strong­ly coop­er­at­ing with the Euro­pean Insti­tute for Sus­tain­able Trans­port (EURIST). For more infor­ma­tion also check out the African E‑Bike web­site.
| | |
| --- | --- |
| Speed | 30 km / h |
| Range | 40 km, ful­ly loaded |
| Load capac­i­ty | 120 kg |
| Design | HNF Nico­lai and FABIO |
| Man­u­fac­tur­ing | Hero Cycles |
| Assem­bly | FABIO |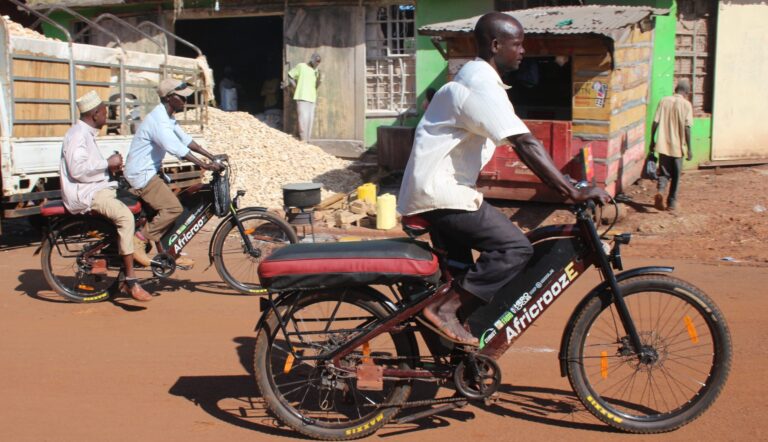 | | |
| --- | --- |
| 45 Taxis | 30 Jin­ja / 15 Iganga |
| 10 Ambu­lances | 5 Jin­ja / 5 Iganga |
| 5 Deliv­ery Bikes | Jin­ja |
| 10 Water­bikes | 5 Jin­ja / 5 Iganga |
| 10 Tourist Bikes | Jin­ja |
20 more pri­vate found­ed E‑Bikes of the first are dis­trib­uted to oth­er per­sons and organ­i­sa­tions around Ugan­da and Kenya.
A pilot project start­ed in 2017 already allows a lit­tle out­look on the impact of the E‑Bikes. Three E‑Bikes were used by up to 12 users each of which of 86% realised a strong increase of their income. The bikes cov­ered a dis­tance of 20 to 30 kilo­me­tres every day. By cov­er­ing more dis­tance with­in a short­er time ben­e­fi­cia­ries were able to spend more time in the fields and with their fam­i­lies mean­ing a bet­ter social and eco­nom­ic liveli­hood. Con­clu­sions of the projects start­ed in 2022 will be avail­able in time. Already now we get lots of good direct feed­back by our beneficiaries.