The Cycle to School project is an educational empowerment program at community level addressing student retention, attendance and performance outcomes. Children without a bicycle walking long distances to school face many challenges including increased tardiness, exhaustion and safety risks. Adolescent girls, in particular, are at risk for complete withdrawal from the educational system. Research shows that education is an essential element to end the cycle of disease (like HIV) and poverty.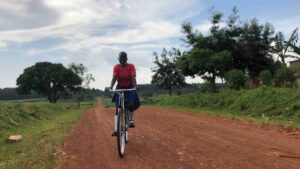 While the scope of the problem is broad, one strategy to increase student attendance, enrollment and retention is safe, reliable transportation to school. The Cycle to School project is a cost effective way to improve educational outcomes for adolescent girls. In this project, FABIO ensures beneficiaries living far from school are selected based on low attendance, punctuality, vulnerability, age and gender. The project ensures that selected students sign and own contracts, which state the bicycle becomes his/her property which is primarily used and maintained for accessing education. After successful sensitization about cycle to school, the student has an elementary capacity in bicycle maintenance. The program's success is measured through routine bicycle usage, change in student attendance for girls and boys, change in average time to travel to school and change in academic performance at the end of each term.
Through this project there has been a reduced number of young people dropping out of school and an increase in the income per capita of the family since the bicycle is multipurpose hence improving on the standard of living. During the Covid-19 lockdown, when most of the schools were closed, the bicycles were also used for other purposes especially for upcoming business ideas.