The Cycle to School project is an edu­ca­tion­al empow­er­ment pro­gram at com­mu­ni­ty lev­el address­ing stu­dent reten­tion, atten­dance and per­for­mance out­comes. Chil­dren with­out a bicy­cle walk­ing long dis­tances to school face many chal­lenges includ­ing increased tar­di­ness, exhaus­tion and safe­ty risks. Ado­les­cent girls, in par­tic­u­lar, are at risk for com­plete with­draw­al from the edu­ca­tion­al sys­tem. Research shows that edu­ca­tion is an essen­tial ele­ment to end the cycle of dis­ease (like HIV) and pover­ty.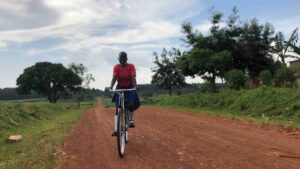 While the scope of the prob­lem is broad, one strat­e­gy to increase stu­dent atten­dance, enroll­ment and reten­tion is safe, reli­able trans­porta­tion to school. The Cycle to School project is a cost effec­tive way to improve edu­ca­tion­al out­comes for ado­les­cent girls. In this project, FABIO ensures ben­e­fi­cia­ries liv­ing far from school are select­ed based on low atten­dance, punc­tu­al­i­ty, vul­ner­a­bil­i­ty, age and gen­der. The project ensures that select­ed stu­dents sign and own con­tracts, which state the bicy­cle becomes his/her prop­er­ty which is pri­mar­i­ly used and main­tained for access­ing edu­ca­tion. After suc­cess­ful sen­si­ti­za­tion about cycle to school, the stu­dent has an ele­men­tary capac­i­ty in bicy­cle main­te­nance. The program's suc­cess is mea­sured through rou­tine bicy­cle usage, change in stu­dent atten­dance for girls and boys, change in aver­age time to trav­el to school and change in aca­d­e­m­ic per­for­mance at the end of each term.
Through this project there has been a reduced num­ber of young peo­ple drop­ping out of school and an increase in the income per capi­ta of the fam­i­ly since the bicy­cle is mul­ti­pur­pose hence improv­ing on the stan­dard of liv­ing. Dur­ing the Covid-19 lock­down, when most of the schools were closed, the bicy­cles were also used for oth­er pur­pos­es espe­cial­ly for upcom­ing busi­ness ideas.