FABIO has continued with implementation of its cycle to school programme in Butagaya Sub-County with the motive of increasing retention in schools hence improving performance. As a result of the closure of schools, FABIO had suspended this program. However due to the community FABIO re-embarked on this programme with prospects that children can now use these bicycles to help the parents in some of the activities that can help them raise their tuition.This year FABIO has handed 100 bicycles to the people of Butagaya with Faith that if utilized very well, we shall not have more cases of school dropouts especially among the young girls as a result of long distances.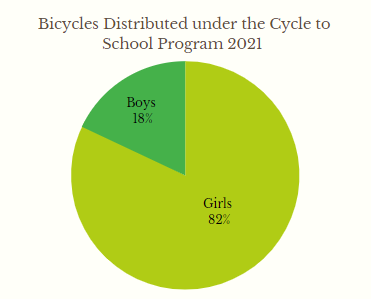 "Despite the school closure due to the Covid Lockdown, we were able to use the bike. My family used it to get food from the garden and to fetch water. The water is used by my father to make bricks. This gives him an income and allows him to save money for my school fees."
- Jannet, 16 years old, Cycle to Schoo Beneficiary 2021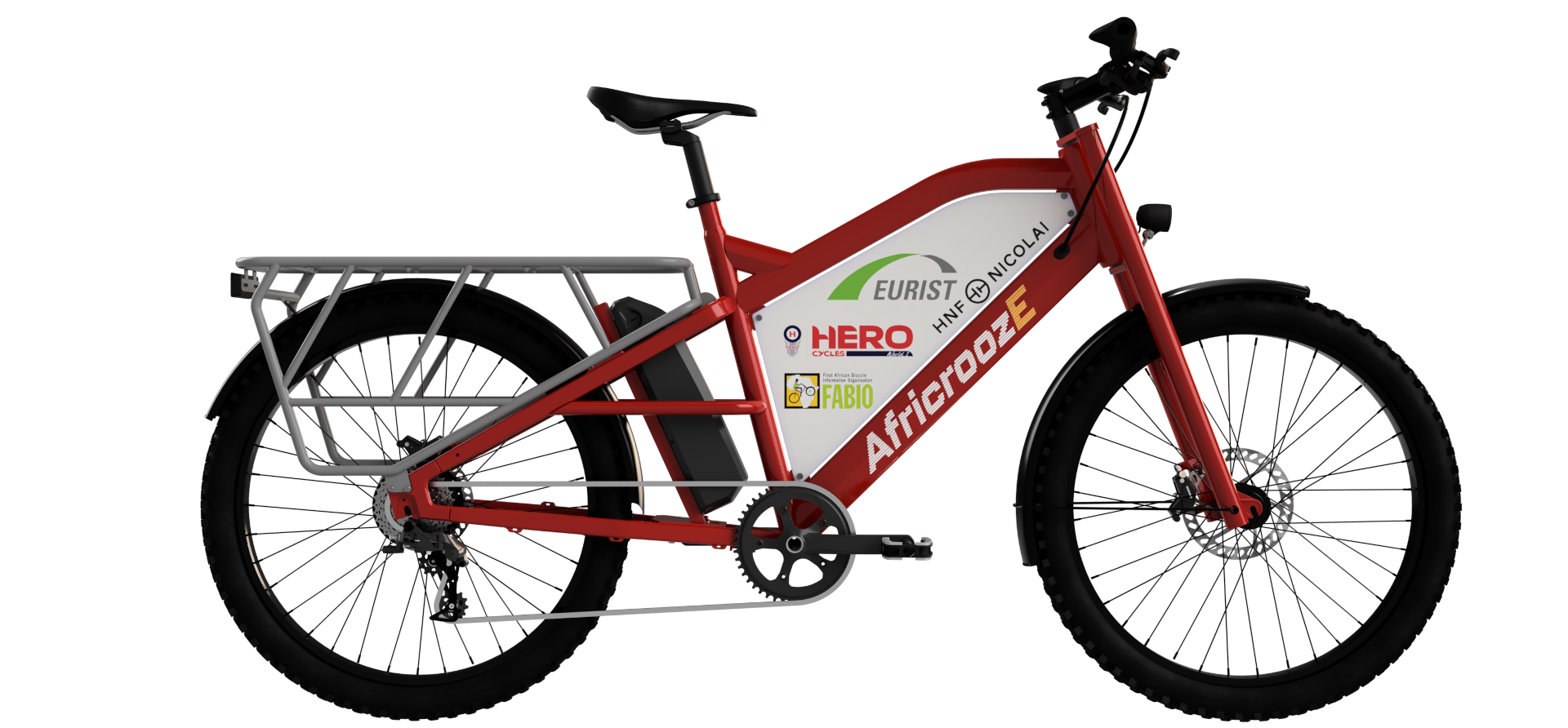 In October one hundred e-bikes will be rolling on the streets of Jinja. A small pilot project with three e-bikes was already launched in 2017 and the feedback and demand was overwhelming. FABIO worked with the European Institute For Sustainable Transport (EURIST) and bicycle manufacturer Hero to design an e-bike tailored to the needs and conditions in Uganda. These African e-bikes will be uniformly branded and called AfricroozE. These bikes will be distributed to different user groups and will be used as taxis, delivery services, ambulances, for tourists and to fetch water. Through this project, mobility becomes more affordable and, by charging the e-bike with solar energy, more sustainable. FABIO is working to establish service centers where the E-Bikes can be charged, repaired and maintained. To operate these service centers, FABIO will hire additional staff.
Cycle For Economic Empowerment Programme
This programme focuses on increasing incomes for vulnarable communities through provision of subsidized bicycles to various groups of people including among others the youths, women and low income earners. The Projects under this programme include:
"I sell vegetables, avocado, bananas, onions, tomatoes and silver fish sauce. I came up with this idea after realizing that my husband alone was not able to cover all the basic needs of the family and other expenses, and there were no savings. I use the bicycle now to go buy goods and fetch the water for home use on the Borehole instead of buying. With the bicycle now, I am able to save money. My goal for saving is that by 2022 I am able to buy land with my husband."
- Leah, 28 years old, mother of 3 children
The cargo bike is a bicycle with a specialized trailer used to carry produces by people.
Due to the high unemployment levels in Uganda, FABIO initiated the construction of bicycle which can be used to carry good from one point to another also now referred to as cargo bikes. The initial cargo bike by FABIO was for the unemployed youth in the town areas of Jinja. During the consecutive community engagement of FABIO in its rural communities, it was observed that there is need for a means of transport for people to move their yields from garden to home, also subsequently to the market. The Failure by the farmer take their produce market lowers their incomes as they are cheated by middlemen.It is this and much more factors that compiled FABIO to initiate the cargo bikes.
FABIO innovation team is continuously producing new and proved bicycles that can carry up 80 kgs but also now focusing on making customized cargo bikes in accordance with the needs of the people.

This project aims to facilitate the mobility of business men and women in rural areas. Through the sponsorship project beneficiaries are able to have an improved means of transport, improved livelihoods of families and it economically empowers smallholder farmers. The project improves the access to better social economic services as a means of social support. It also promotes sustainable transport for the people in the rural areas who move very long distances to reach their workplace.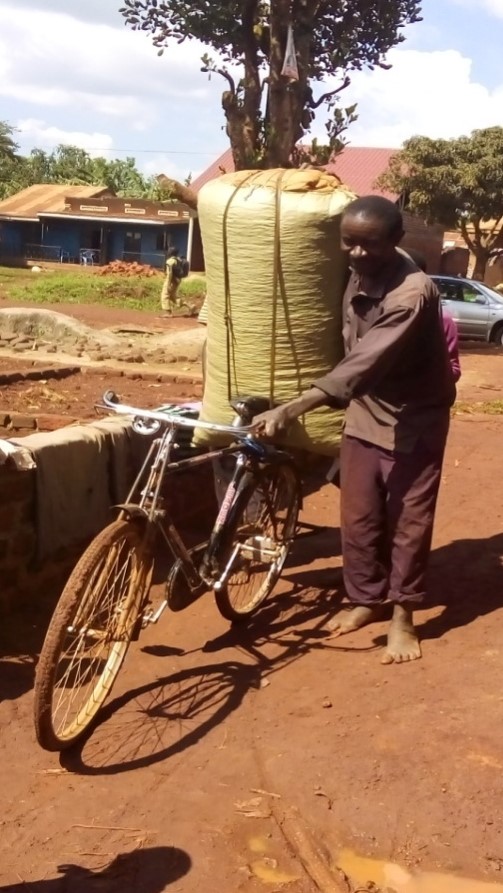 I sell produce of coffee beans and maize grains packed in sacks at Buwege trading center which is 10 km away. It was very expensive to transport the produce to the market and also collect the produce from one village to another. During the lockdown I had to work very hard to support my family including my children. Life became very hard because I had to carry more bags of coffee beans and maize to increase the output in a week. The bicycle was the only source of hope in all aspects of the family support. I was able to save 10,000 for the family in one day.

- David, 56 years, father of 10 children
BICYCLE AS AN EMERGENCY RESPONSE TO COVID-19
The overall objective of this Bicycle Rapid Emergency Response is to address the critical areas related during the lockdowns and travel restrictions imposed by the COVID-19 pandemic. Implemented in the villages of Nabukosi, Lumuli Kalugu, Lubani, Mabira and Bubugo in Butagaya Sub County. The project's particular focus was on facilitating poor families to access markets and health facilities.
GOVERNANCE AND HUMAN RIGHTS PROGRAMME
The Governance and Human Rights Program aims at strengthening and nurturing communities to advocate for democracy that serves all citizens in Uganda. The program works for social, economic political accountability of local government to the communities. We organized groups like "Pressure from below group" in Walukuba Masese, Mafubira Peoples Parliament Tanks and citizen engagement forums for the transport sector which have caused tremendous impact in the community.
ADVOCACY FOR SUSTAINABLE TRANSPORT PROGRAMME
Since 2001, FABIO advocates for active and sustainable transport. Recognizing that most of the African countries including Uganda did bot have comprehensive transport policies and plan, we engage on activities with the ministry of Works and Bus Rapid Transit (BRT) for and looks at reducing on congestion and accidents in Kampala where majority victims are non motorized transport users, FABIO embarked on an advocacy campaign for clean, inclusive Public Transport systems and we identified BRT as one of the inclusive public transport in 2004 Kampala is a component of not motorized Transport, KCC then; now KCCA, and lower urban councils of Jinja and Iganga. The major focus of this program is to see that issues of non-motorized transport are considered in the different national and local Government plans.