BICYCLE as an Emergency Response to COVID-19
FABIO with support from All We Can is implementing a bicycle rapid emergency response in Butagaya Sub county Jinja District. The objective of the response is to address some critical areas related to the ongoing lockdown and travel restrictions imposed by COVID-19 pandemic, with a particular focus on facilitating poor families to access markets and health facilities.
The response involves providing interim access to bicycle transport to poor and vulnerable that will help them access the market to sell their produce and reach health facilities when necessary, thus mitigating the economic and health challenges in the short-term, but also contributing ideas and solutions that will lead to better preparedness in the long-term.
This programme aims at ensuring access to health care services and information through provision of bicycle ambulances and bicycles to Village Health Teams (VHTs) respectively.
 The motor has 3 levels of assistance with level 3 providing the most assistance and level 0 with no assistance at all (in this case the E-Bike functions as a normal manual bike). The higher the level assistance the higher the battery usage and correspondingly the more frequent the requirement for charging. When the battery is empty, the E-Bike functions as a normal bike. This doesn't affect the function of the battery or motor. The motor resumes full use when battery is recharged.
Charging of bicycles can be done from a normal plug, however to provide an environmentally friendly sustainable solution, photovoltaic solar panels are used. The solar panels are connected to lead batteries allowing the bicycle batteries to even be charged at night. The E-Bike is a direct competitor to the less environmentally friendly carbon dioxide emitting motorcycles which also require fuel hence making E-Bike the more cost effective option. It gives fast, easy, zero emissions means of Transport for goods and people.
CYCLE TO SCHOOL PROGRAMME
The Cycle to school programme aims at ensuring access to education among vulnerable students. The programme target is to reach out to all vulnerable families in Busoga Sub Region by 2030. Currently, the programme focuses on students and teachers of secondary schools in Uganda. FABIO identifies Vulnerable students especially girls who are expected to use the bicycles mainly as a means of transport to school. During the weekends and holidays, the bicycles can also be used for domestic works in homesteads.
The programme in the short run is expected to:
1. Improve (personal) mobility; better time management
2. Improve participation in social life
3. Knowledge transfer (bicycle maintenance training)
4. Reduce reliance on public transportation and hence reducing costs of access to schools
5. Improve the attendance rates of the beneficiaries
In the long run the programme is expected to:
6. Improve performance of beneficiaries which contributes to the overall school performance.
7. Reduce the risk of living in poverty
8. Change the attitude of people Regarding bicycles
9. Higher sensitivity for the environment (Climate Change Awareness)
We currently have 3 running projects under this programme. Cycle to school in Butagaya subcounty, Jinja targeting all public schools in the sub county supported by All We Can, Cycle to school St Stephen SSS, Budondo Subcounty supported by the FABIO Deutschland E.v, and Cycle to school Jinja SSS supported by Institute for Sustainable Transportation and Development Policy (ITDP)
CYCLE FOR HEALTH CARE PROGRAMME
This programme aims at ensuring access to health care services and information through provision of bicycle ambulances and bicycles to Village Health Teams (VHTs) respectively.
Bicycle Ambulances: These are Bicycles with a specialized trailer to be used in rural areas in Uganda where access to medical care is often very difficult and sometimes even not possible at all. Pregnant women, children, elderly and unconscious people will benefit most. Fuel powered ambulances are often unable to reach some villages. FABIO wants to contribute to reach the Sustainable Development Goal 3 (better health and well-being) by distributing bicycle ambulances to villages in rural Uganda. The bicycle ambulances are managed by village Health Teams in the target communities
Bicycles for Health care information: This project involves providing bicycles to VHTs at subsidized prices with a major focus of improving the accessibility of VHTs to households and health centers. The project involves a number of trainings and workshops for the VHTs, launching and giving out of bicycles to VHTs to improve on their effectiveness and efficiency while carrying out their roles and responsibilities in the communities. The VHTs are expected to provide first hand information on available health care services and opportunities within the community.
CYCLE FOR ECONOMIC EMPOWERMENT PROGRAMME
This programme focuses on increasing incomes for vulnerable communities through provision of subsidized bicycles to various groups of people including among others the youth, women and low income earners.
The projects under this programme include;
The Cargo Bike Project: The cargo bike is a bicycle with a specialized trailer used to carry cargo by the target communities. The project aims at increasing household incomes especially for the youth by offering opportunity to move their produce or goods from one selling point to another. This comes to address the unemployment challenges faced by the youths in Uganda.
Bicycle Sponsorship Project:
This project looks at providing subsidized bicycles to people working in low income jobs below UGX 300,000
Bicycle for women:
Women are provided with bicycles at a subsidized price which can be paid in installments. This project aims at enabling women to access gardens and markets there by selling their produce and hence enabling them earn incomes. Majority of women in Rural Uganda are small scale farmers who don't have an opportunity to earn from their produce.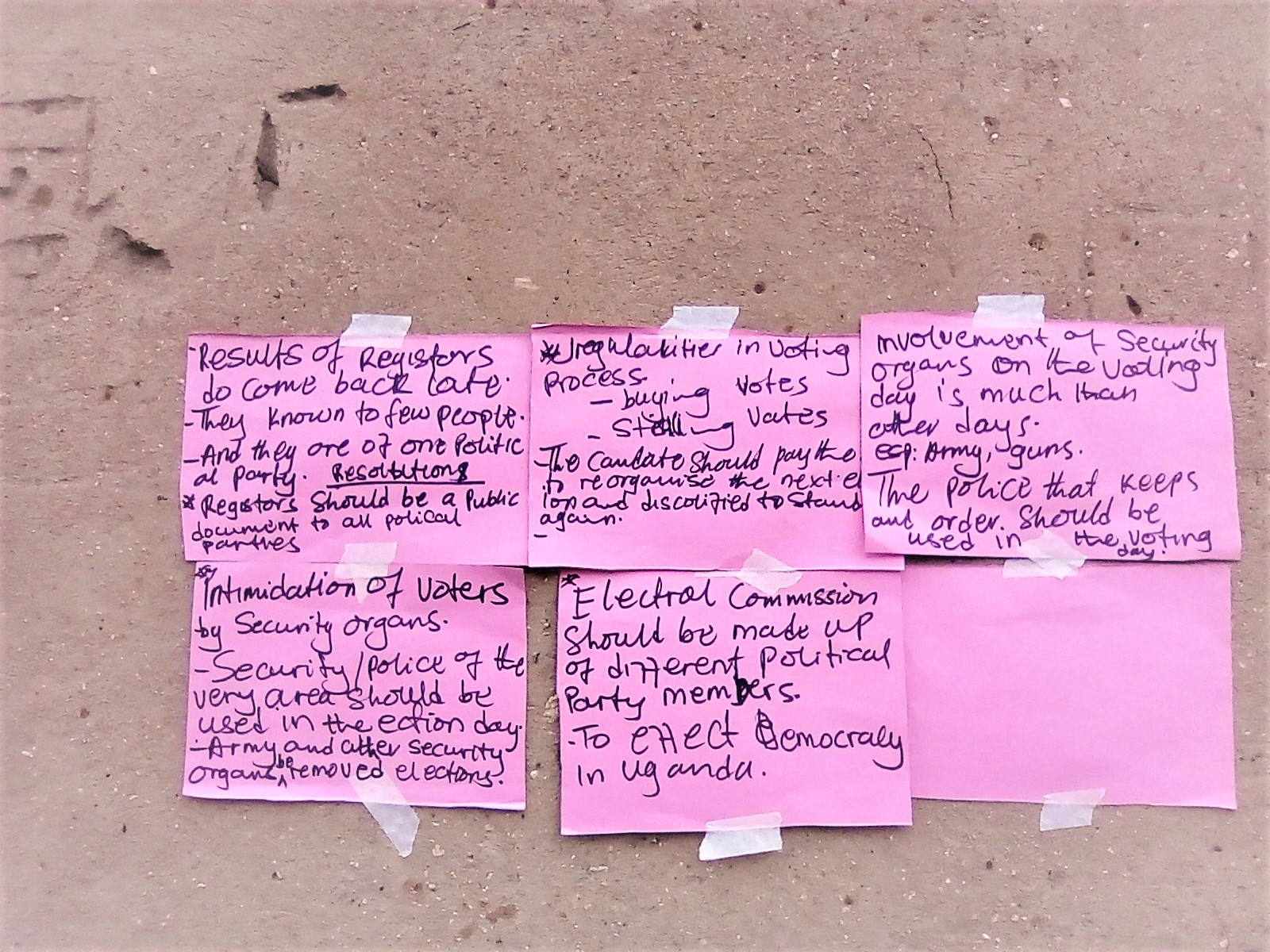 GOVERNANCE AND HUMAN RIGHTS PROGRAMME
The Governance and Human Rights Program aims at strengthening and nurturing communities to advocate for a democracy that serves all citizens in Uganda. The program works for social, economic and political accountability of local government to the communities. We have organized groups like "Pressure from below group" in Walukuba Masese, Mafubira Peoples Parliament, Think Tanks and citizen engagement forums for the transport sector which have caused tremendous impact in the community.
It has the following objectives:
1. To mobilize community members to actively participate in democratic governance at all levels and demand for government's respect for human rights and the Constitution.
2. To promote equality, service delivery and accountability at local and central government levels in the various sectors that Forster development
3. To participate in policy reform processes at local and national levels, using grassroots knowledge and well researched evidence.
4. To advocate for a favorable operating environment for civil society organizations in Uganda.
Under the governance program, we have projects like: Hakuna muchezo village project. The project looks at building the civic competence of the electorate from specified communities to demand accountability from their service providers while participating communities to demand accountability from their service providers while participating in the development processes in their areas. FABIO does this through organizing engagement for the community and the leaders on the different identified pressing issues. The overall goal is to have all the different stake holders in community development fulfill their roles and responsibilities. The Governance Programmes are implemented under Civil society Networks which include the Uganda National NGO Forum, Alliance for Campaign Finance Monitoring, CCEDU, DENIVA, JINGOF and Many Others.
ADVOCACY FOR SUSTAINABLE TRANSPORT PROGRAMME
Since 2001, FABIO advocates for active and sustainable transport. Recognizing that most of the African countries including Uganda did not have comprehensive transport policies and plan, we engage on activities with the Ministry of Works and Transport, KCC then now KCCA, and lower urban councils of Jinja and Iganga.
The major focus of this program is to see that issues of non-motorised transport are considered in the different national and local Government plans. Bus Rapid Transit (BRT) for Kampala is a component of NMT and looks at reducing on congestion and accidents in Kampala where majority victims are NMT users, FABIO embarked on an advocacy campaign for clean, inclusive Public Transport systems and we identified BRT as one of the inclusive public transport in 2004.