The challenge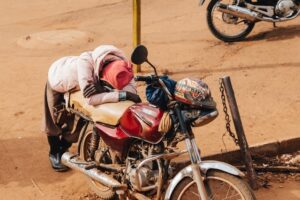 Mobility (Transport) is such an important aspect to people's lives and the development of a country. This is because People and goods have to be transported to and from the cities,with in the cities and also in the countryside. This includes transportation of food and agricultural products, harvested products that should be sold in the town markets as prices are higher there than in one's own village, seeds that are brought in, and of course (drinking) water that is transported by road due to the lack of pipelines . Transport is now done on foot (people carrying cargo by head) or with Bodas (motorcycles) by young people who often do not own these motorcycles. The profit margins are very small and with the out brake of Covid19 and the increasing costs of petrol,many are barely surviving.  The negative impact on the environment is increasingly resulting the exhaust fumes of the old and the engine oil which is poorly disposed  into the ground after the oil change. the other challenge is that many people stand by along side the roads for hours both morning time and evening waiting for means of transport to work, school,hospital and market daily.this is not only time but it is productive, some even walk long distance both morning and even in the same way.( Those walking loose at least 2-3hours of productive time daily) and these are esteemed to be around 20% of the working labor in Uganda.
The change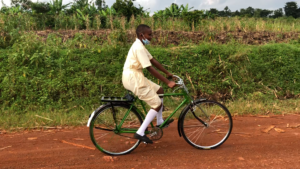 A Bicycle make a change. The solution is as old as good. To get out of poverty, accessibility is one of the most important tools.  The bicycle drastically improves this in an eco-friendly way. Easy to repair and maintain, in many cases the bicycle is a suitable response to the challenges people face. FABIO is aiming to spread the idea of cycling for a better future.
Our projects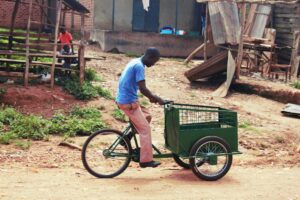 FABIO improves lives by many different programs around sustainable and affordable mobility. One focus is on women's groups gaining access to markets and also enhancing their ability to do the household chores faster and hence improving on their productivity. Another focus is on school children, especially girls, by providing bicycles they can improve their school retention and performance. To enable and strengthen their effectiveness in supporting communities on health related issues FABIO also provides bicycle ambulances to village health teams in rural communities. Another current project focusses on the spreading of E-Mobility among the streets of Jinja and Iganga. You are invited to discover all of our interesting projects.
Support our projects and participate in our important work